Light aircraft and helicopter routes – north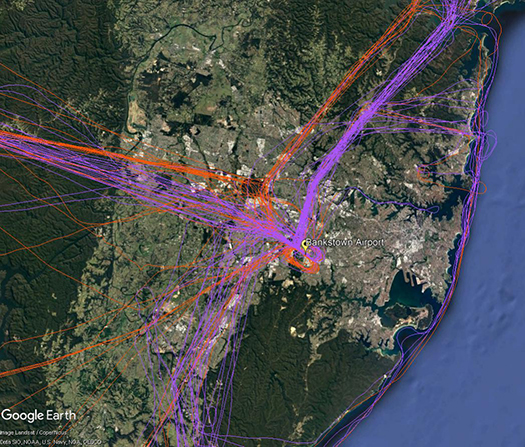 There are a number of routes around Sydney used by light aircraft and helicopters.
It is not mandatory that light aircraft and helicopters fly on these routes. As you will see from the images below which show the tracks of actual flights, some aircraft may fly the whole route but others may only fly part of it, joining or leaving it depending on their purpose or destination. Other aircraft may not use the routes at all.
These routes are mainly outside controlled airspace ("OCTA"), that is, aircraft are not being directed by air traffic control. Whenever they fly outside controlled airspace, pilots are following the rules of the air. Our booklet, Guide to our Operations, explains more about different types of airspace.
Pilots using these routes are usually flying under Visual Flight Rules, which means they navigate using landmarks that are easily seen from the air. This does not mean they must fly over each landmark; rather, they use each landmark to be sure of their position.
Most of these routes lead to and from Bankstown Airport, as shown in the images above and below.
To and from the north
The two northern routes are shown in the image below. One is via Brooklyn Bridge, the Galston electricity substation, the water tank at South Dural and Prospect Reservoir.
The other route is a designated "lane of entry" that allows aircraft to come and go from Bankstown Airport without entering the controlled airspace of Sydney Airport or Richmond RAAF Base. It is also used by aircraft transiting from north of Sydney to areas south and south west of the city. This corridor of airspace has a ceiling height of 2000 to 2500 feet.
The lane of entry runs between Bankstown Airport and Patonga. Outbound aircraft head to Parramatta and past the Prospect to Potts Hill pipeline. Once north of the pipeline aircraft can climb to 2000 feet. Tracking features include the intersection of the M2 and Pennant Hills Road, the strobe light at Pennant Hills CBD, a covered reservoir at Thornleigh and the Hornsby CBD and railway sheds. The track then follows the eastern side of the M1 motorway (Sydney Newcastle Freeway) and onwards to Patonga.
Aircraft may turn east from the lane at Hornsby and travel towards the coast using the Baha'i Temple as a tracking feature. Once at the coast aircraft may track to Long Reef or conduct a harbour scenic flight or coastal flight.
In the image below the tracks of inbound aircraft are shown in orange and outbound are purple.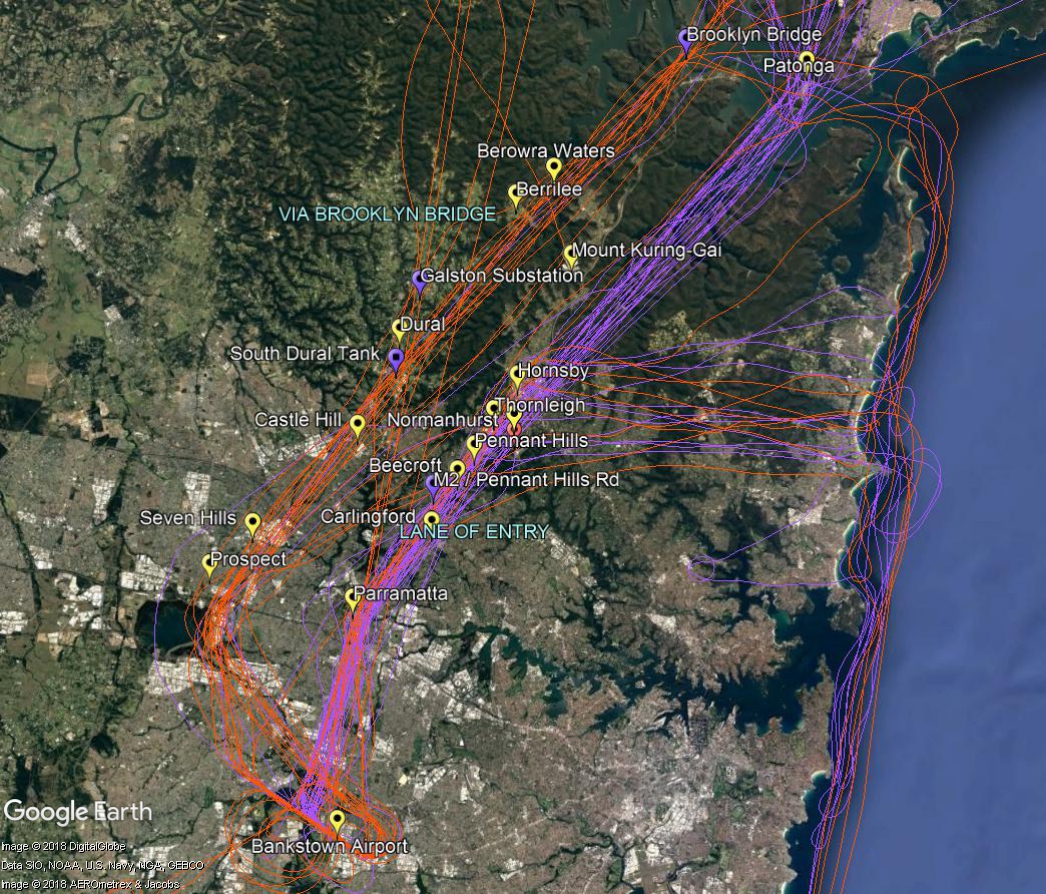 Next