Display issues
If you are experiencing display issues, check whether you are using the recommended screen resolution and scale/zoom settings. Recommended selections are usually indicated in the Display Settings of your device.
This portal has been optimised for desktop, laptop and tablet use. The interactive charts and graphs may be difficult to use on mobile phones.
Navigation help
The main categories of information available are displayed on the buttons on the left-hand side of the screen. When you click on a button, the posts (or articles) relevant to the category are listed. When you scroll through the list to the bottom of your screen, more posts may load and display. Click on the "Read More" button to read a post. When you are inside a post you can use the "Next" or "Previous" links to move forward or back through the post list. The "Back" link returns you to the post list for the category you are viewing.
Using the interactive components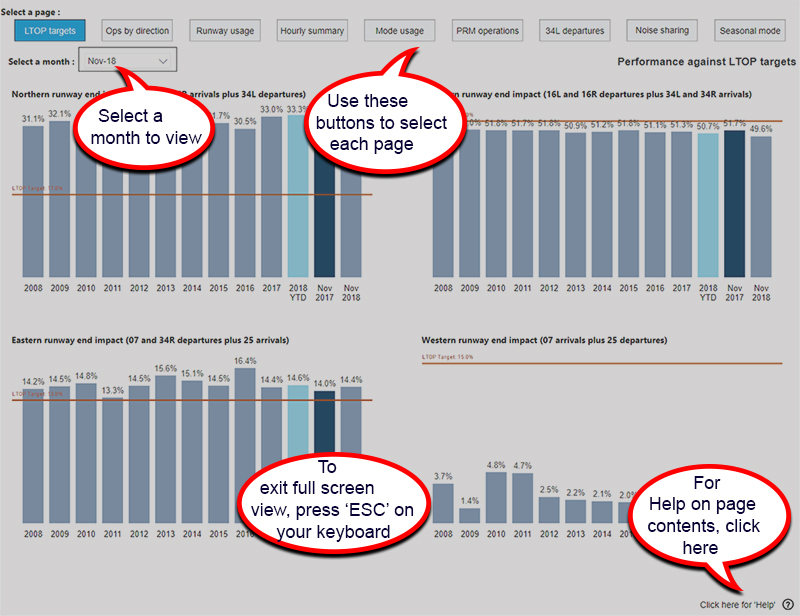 Help is available for each page of each detailed interactive statistical report available in the Resources section:
Sydney Airport operational statistics
Aircraft noise complaints report
Noise monitoring report
Bankstown Airport report
Explore detailed data for your suburb
Click in the bottom right-hand corner of each page to turn pop-up hints on and off (as shown, right).
These reports are best viewed in full screen mode.
Can't find your suburb?
As of September 2019 this portal covered all suburbs in the Sydney region, however, as new suburbs continue to be developed, we may not have caught up with yours yet. Newly-developed suburbs will be added to the portal once each year. If your suburb is not covered, please select neighbouring suburbs until your suburb can be incorporated.
Sitemap
The posts you will see in each category are customised for the suburb you have selected. To see posts for other suburbs, you can either change your suburb selection or use the Sitemap. The Sitemap contains a link to each post available on the site. Using these links you can view posts for other suburbs without changing your suburb selection.