Sydney Airport departures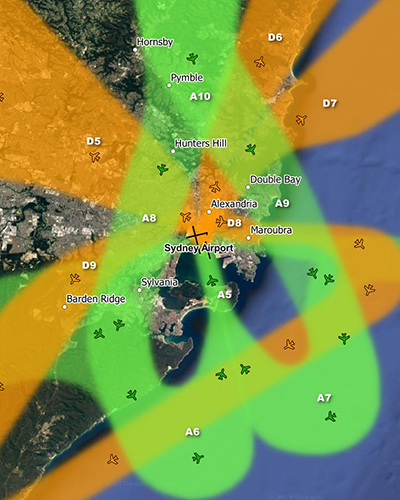 Jet and turbo-prop aircraft that are heading for destinations to the west, north and north-west will fly over or near your area after departure from Sydney Airport. This corridor is labelled D5 in the image, right. These flights are bound for destinations such as Dubbo, Perth, Adelaide, Darwin, Broome, Singapore, Kuala Lumpur, Dubai, Abu Dhabi, Hong Kong and Shanghai.
As shown in the image below of actual tracks of departing aircraft, there are two concentrated flight paths. One tracks towards Richmond, passing over suburbs such as Ermington, Baulkham Hills and South Windsor. The other tracks towards Katoomba over Parramatta, St Clair and South Penrith.
Aircraft will also fly on either side of these two flight paths. This traffic is being individually directed by air traffic control in order to manage the volume of aircraft in the airspace. For example, a slower aircraft may be moved off the main flight path in order to take it out of the way of a faster jet behind it.
Altitudes over your area will vary according to factors such as the weight of the aircraft and how heavily laden it is. For example, long-haul aircraft departing for Dubai will be much heavier than smaller aircraft heading to Perth or Adelaide due to fuel load and aircraft size and therefore they will climb more slowly. The maximum take-off weight (MTOW) for an A380 is 560,000kg and for a B747 it is 396,890kg. The MTOW of an A320 is 73,500kg and for an A330 it is 230,000kg.
While differences in weight will affect an aircraft's climb rate, even the atmospheric conditions at the time can play a part in how quickly an aircraft can climb. When the weather is warm, the air is less dense and therefore there is less lift and the aircraft climbs more slowly.
Generally, the average altitude of an A380 over Parramatta is around 5500 feet and over South Penrith around 9,000 feet. In contrast the average for the smaller A320 or B737 over Parramatta is around 6500 feet and over South Penrith around 14,000 feet.
Over Baulkham Hills an A380's average altitude is around 7000 feet and over Richmond around 11,500 feet. An A320/B737 would be at an average of around 8,500 feet over Baulkham Hills and 15,000 feet over Richmond.
This image shows the tracks of departing aircraft: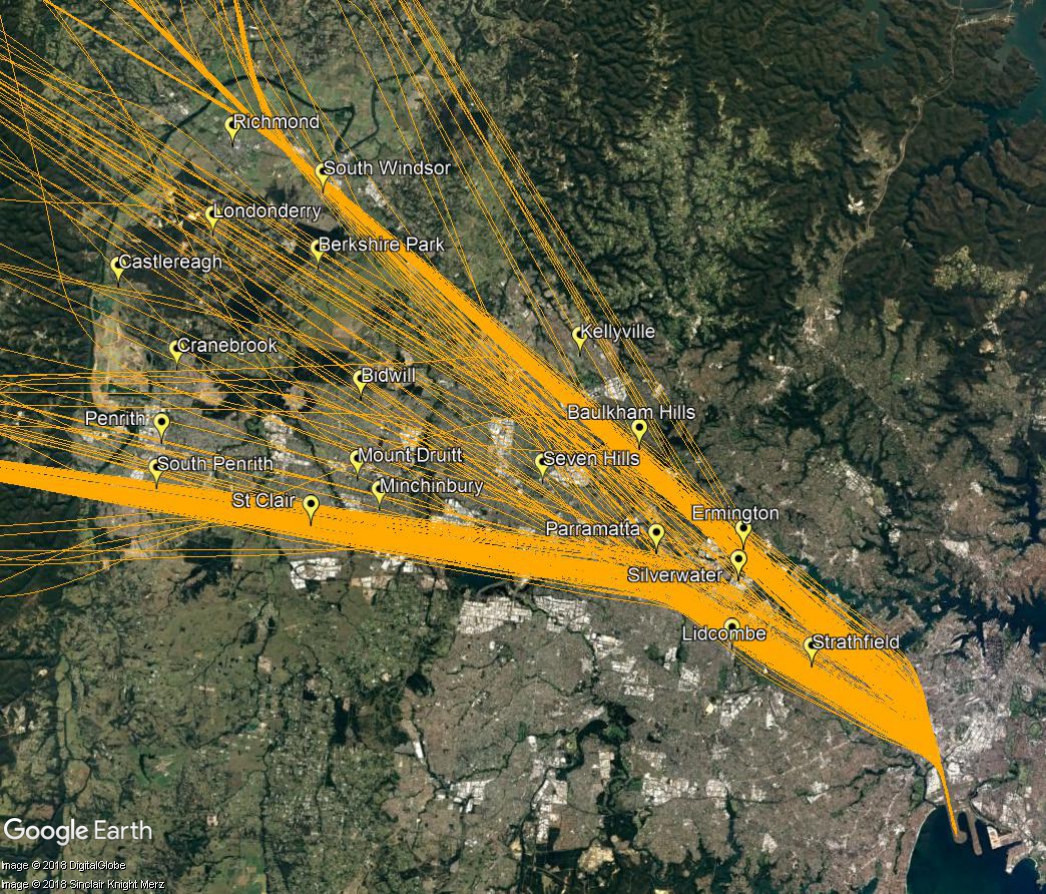 Next